Prettyman.Freeservers.Com
Prettyman Gymnasium
at Horace Mann Campus
231 West 246th Street - Riverdale, Ny. 10471
Prettyman.Freeservers.Com
---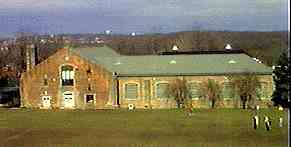 Prettyman Gymnasium
The 18-acre Horace Mann Campus overlooks Van Cortlandt Park in the Fieldston-Riverdale section of New York. Upper School Campus Buildings include Tillinghast Hall, which houses administrative offices, classrooms, and the 40,000-volume Theresa H. Loeb Library. Alfred Gross Hall (1961) contains the 600-seat Van Alsytne Auditorium and dining rooms. Pforzheimer Hall (1956) and the Gratwick Science Wing (1975) include classrooms and facilities for the science, art and music departments. Prettyman Gymnasium contains basketball courts, an indoor track, swimming pool, and a fully equipped Nautilus room as well as exercise and training rooms. Other athletic facilities include playing fields and seven tennis and handball courts. Van Cortlandt Park provides additional space for athletics.

The Boys' School, which is located at 246th Street in the Riverdale section of the Bronx, is reported to have cost $20,001 to purchase in 1909. The $20,000 paid for the property itself; Virgil Prettyman, Headmaster from 1894 to 1920, had trouble finding the location and asked a local homeless man in Van Cortlandt Park how to get to the site. The man showed him the way in exchange for a $1 quart of hard apple cider.

Dates:

1894

   Virgil Prettyman becomes Principal of Horace Mann School

1909

   Teachers College purchased lots on 246th Street in the Fieldston section of the Bronx.

   Alumni Field opened.

   The property is reported to have cost $20,001 which was paid for by Mr. Prettyman.

1924

   Prettyman Gymnasium and Pool opened

Information captured from Horace Mann website 2000, 2010

Links:

Horace Mann Home Page


     Riverdale co-ed independent school for grades PreK - 12.

     231 West 246th Street, Bronx, NY

Horace Mann Campus Map.

Horace Mann Location Map

Virgil Prettyman earlier years at Dickerson.
---
| Prettyman.Freeservers.Com | Whats New | Site Map | E-Mail Webmaster |
Thank you for visiting Prettyman.Freeservers.Com

You are visitor #





This page revised: October 22, 2000, November 2010